Drug Possession
Providing the Defense You Need
Hidalgo County Drug Possession Lawyer
Assisting Those Convicted of Drug Possession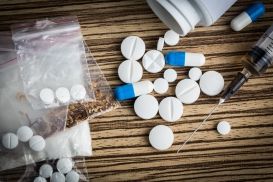 If you are found to be in possession of a controlled dangerous substances (CDS) without authorization in the state of Texas, you will likely be facing criminal possession charges. Texas is a very strict state in terms of drug violations, meaning the penalties you could have levied against you will likely be substantial and place a serious impact on the rest of your life.
Experienced Drug Possession Defense
If you are arrested and charged with a drug crime, including possession of a CDS, do not attempt to defend yourself against your accusers. Fight back against your prosecutors with a well-orchestrated criminal defense from The Law Office of Rene A. Flores, PLLC. Attorney Flores has served as a Municipal Judge in the city of Palmview, giving him a detailed familiarity with the laws in the state and the strategies and methods of prosecutors.
---
Call The Law Office of Rene A. Flores, PLLC today at (956) 606-3606 and get a free phone consultation!
---
Drug Crimes in Texas
Drug crimes are usually sentenced based on several factors, including the intent of the possession, the type of drug possessed, the amount of it, and the location where the crime occurred. Each case different, making the counsel of an experienced Hidalgo County criminal defense attorney crucial to your case.
Texas divides CDS into five groups:
Penalty Group 1: Includes cocaine, heroin, and methamphetamines
Penalty Group 1-A: Includes LSD
Penalty Group 2: Includes ecstasy, PCP, and Marinol
Penalty Group 3: Includes Valium, Xanex, Ritalin, and small amounts of hydrocodone
Penalty Group 4: Includes morphine, some opioids, and Pyrovalerone
The penalty groups are arranged according to perceived danger, with Group 1 possessing those drugs with no accepted medical use and a high possibility of addiction, and group 4 being the opposite. All drugs are classified into these groups, which will then dictate whether your charge will be a misdemeanor or felony. Marijuana is charged differently from these groups, though under similar rules.
---
Get assistance with your drug possession charges today! Contact our drug possession lawyer in Hidalgo County now!
---
Thank you for above and beyond.

Your attention to my case has allowed me to focus on what's important to me, healing and recovery.

- Ronnie G.

I highly recommend this attorney.

Rene is the epitome of professionalism and a true advocate of the best interest of his clients.

- Juan G.

You have already been a true blessing to us.

My family and I want to express our

sincerest appreciation for taking the time to represent me. You have already been a true blessing to us. In this very frightening time, and experience, you have immediately become a beacon of peace in this proverbial.

- B. Johnson
RenÉ A Flores
An attorney with a Glowing reputation
Client Satisfaction

Our firm's #1 priority is that each and every client is satisfied with the representation we provided them.

Communication Every Step of the Way

Attorney Rene A. Flores is there for you. He answers your calls, meets with you personally and guides you through every step of your case.

Unique Experience

Attorney Flores grew up in the courthouse. From Deputy Clerk, to Assistant Court Coordinator, to City Prosecutor, he has committed himself to the judicial system and to fighting for what is right.

Community Oriented

When you work with our firm, you're working with a team who is dedicated to serving the local community and giving back with public service.
Contact Us
Get Immediate Legal Help